Call Us 24/7 at 631-395-3400 or 516-982-8587
A+ BBB Rating
15+ 5-star reviews
Family owned and operated company serving the area since 1998
Free estimates
24/7 live calls – ALWAYS talk to a person, not a machine
60 minute response time
We bill your insurance company directly
Clean cut, professional and expert technicians who treat your home like their own
Our Clients Say it Best
Excellent service! Honest and fair. I used them on two different occasions- very professional. Came quickly. Got the job done perfectly. Came for a quote and was honest that there wasn't any mold. I would highly recommend them! –Clayton T.

We arrived home to a flood at 330 pm on a Sunday. We called Ace and in 90 minutes later Kevin and his crew were here with 4 trucks to begin the clean up. They worked until about 10 that night and were our constant companions for the next week. They are EXTREMELY professional and so trustworthy that we had no problem leaving them alone when we had to go out. Ace has our unqualified recommendation. –Stanley L.

Awesome! Ace did exactly what they said they would do and then some. Couldn't of asked for a better experience despite this difficult time. No one wants a flood in there home but thanks to Ace its like I never had one. Perfection from start to finish! –Dan B.
Check out all our 5-star reviews on Google
Hempstead Flood Damage Cleanup
Regardless of how the harm happened – storms, wind, sink or latrine flood, broken, frozen or leaky pipes, or a malfunctioning appliance, for example, a water heater, washing machine, dishwasher or refrigerator – we have involvement with it and we can deal with it. Water in your cellar, crawlspace or storage room presents particular issues in getting dampness out totally and anticipating further auxiliary harm, and we are masters at taking care of upper room water harm, storm cellar water harm and overwhelmed storm cellar water expulsion.
We will come into your home or office, make sure that the source of the water is stopped, do thorough water extraction and removal, make sure there is complete clean up of all affected areas, and then do any water damage restoration and repairs that are needed. We do everything that's needed within our company without hiring additional and expensive contractors, and we give you fair and honest pricing and a free estimate before beginning services.
Property damage isn't planned. ACE plans for life's disasters 24 hours a day, 7 days a week! At ACE Cleaning & Restoration Service our technicians work around the clock, even at 3:00 am on a weekend! We will not rest until your property is restored. When you call, our team of certified technicians are "READY TO RESPOND" Immediately!
What to expect when you hire us for your 
Hempstead Water Cleanup
IICRC Certified Technicians will arrive in an ACE marked service vehicle, in uniform, and greet you with a smile as they listen to all of your concerns and address each one during this traumatic event. While this may be your first time you need water removal in your home or business, rest assured, that over the last 17 plus years our technicians have developed the skill sets and field experience to handle every water cleanup situation. Using the best practices our team will mitigate the damages and restore your property to a pre loss condition as quickly, safely, and efficiently as possible to control costs and minimize damages caused by the flood damage.
The Water Damage Restoration Process:
Powerful Truck Mounted Extraction removes any amount of water from an inch to several feet of water.
State Of The Art Drying equipment will be placed appropriately to insure proper drying of wet carpet, walls and all water damaged areas.
Moisture meter readings will be recorded and the drying process monitored on a daily basis to insure that mold and secondary damages are prevented.
Contents and personal belongings in the damaged areas will be carefully evaluated, cleaned, deodorized and dried.
As an IICRC Certified Firm with a full time staff of Certified Technicians you will be dealing with a locally owned & operated business started right here in New York. Established in 1998, over 17 years ago, our mission has always been to help people. Your Hempstead and North Hempstead community has always been home to ACE Cleaning & Restoration Service.
When you have emergency water damage in your home or office, Ace Restoration Services offers a quick response to your flood damage repair needs. We handle all residential and commercial water damage. Don't wait for the problem to get worse, call us today to get started.
Frozen, Burst, & Broken Pipes
A frozen, broken or leaky pipe are all inconveniences that can lead to major water cleanup for your home or business. Broken pipes are a common cause of water damage, causing gallons of water to come flooding through your living rooms, bedrooms, kitchen and bathroom. Putting off these repairs and water cleanup can be extremely costly as water damage can lead to structural decline and content damage. Homes that are left vacant with no regulating of the heat or poorly insulated walls can be a common culprit of frozen water pipes and frozen water lines in the winter time. Sprinkler line pipe burst are a common cause of basement flooding. A pipe burst on a sprinkler line may go unnoticed until the water comes rushing through the walls and window wells.
Sewage Damage Cleanup and Removal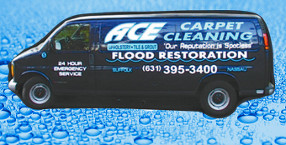 We also take care of sewage damage cleanup and sewage removal services in Hempstead and North Hempstead.  Raw sewage is difficult to mitigate and is extremely dangerous.  It contains high amounts of harmful bacteria and there are serious health risks associated with sewage damage.  Black water has the potential to cause extreme damage. Because of this, only trained professionals with the right equipment should handle sewage removal. Coming in contact with fecal matter or raw sewage can cause disease, can destroy your valuables and cause severe damage to your property.
ACE is fully prepared to help you restore and rebuild, so relax. We will take care of it! Call now. 631-395-3400 or 516-982-8587
On the Road to Recovery there are many choices, but there is only now ACE CLEANING & RESTORATION SERVICE, and "Our Reputation is Spotless!"
Learn More About Hempstead and North Hempstead NY
Regarding the origin of the name "Hempstead", Hempstead founder John Carman was born in 1606 in Hemel Hempstead, England, on ancestral land recorded in the 2nd historic census of England as being owned by his direct ancestor Henry Carman. Another theory regarding the origin of the name 'Hempstead' is that it is derived from the Dutch town of 'Heemstede' in the Netherlands, as this was an area from which many Dutch settlers of New Netherland originated.
Demographics – The population of Hempstead, NY is 53,891 of which the majority (48.3%) are african american. The city's residents are 49.3% are men and 50.7% are women. The city's population is 15.6% college educated and 68.4% have a high school diploma or a GED.
Economy – Hempstead has an poverty rate of 12.5%. Employed workers on average work 39 hours a week. The average worker income is $25,885, which is lower than the national average of $29,701.
Providing water damage Hempstead NY services to 11549, 11550, 11551 and to North Hempstead at 11030.
FLOODED?? YOU NEED HELP NOW! ACE Cleaning & Restoration's certified water damage restoration technicians are READY TO RESPOND. 24 HOURS  A DAY, 365 DAYS OF THE YEAR. Call NOW- We are on our way! Whether its a puddle of water or an indoor DISASTER CLEAN UP, ACE will get the water out, and get it out FAST!

Get a FREE Estimate Below:
Call: 631-395-3400

Call: 516-982-8587