24/7 live calls – ALWAYS talk to a person, not a machine
On our way in 60 minutes or less
Family-owned and operated company serving the area since 1998
Free estimates and mold inspections
We bill your insurance company directly
Our Clients Say it Best
Awesome! Ace did exactly what they said they would do and then some. Couldn't of asked for a better experience despite this difficult time. No one wants a flood in there home but thanks to Ace its like I never had one. Perfection from start to finish! – Dan B.
Check out all our 5-star reviews on Google
Comprehensive Mold Inspection, Mold Treatment & Water Damage Restoration in Westhampton NY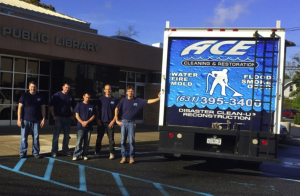 Welcome to Ace Cleaning & Restoration, the premier water damage restoration company and mold remediation company in Westhampton and Westhampton Beach NY. Whether it's flood damage, frozen pipe water damage, or a flooded basement, we provide rapid, all-inclusive, and trustworthy water damage services, including mold treatment and black mold removal. Our bespoke customer service ensures consistent attention throughout the entire water damage cleanup, mold cleanup, and mold remediation journey.
Understanding that emergencies like basement water damage or crawlspace water damage can occur without warning, we maintain 24/7 availability with mold specialists on hand. When you call us, a knowledgeable team member assists you directly, fostering genuine human interaction during these stressful times.
Our highly-trained professionals, armed with advanced technology, can reach your site within an hour or less for water removal and flood cleanup. Our water damage cleanup procedure is extensive, covering everything from halting the water source to full extraction and cleanup, including sewage damage cleanup, guaranteeing that your property is restored to its original state.
Need Help with Water Damage or Mold Cleanup? Ace Cleaning & Restoration Is Here for You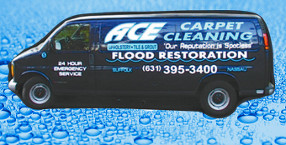 Experiencing the monetary strain associated with water damage repair and mold removal? We're here to alleviate these concerns with complimentary estimates and mold inspections from our Westhampton mold removal company. Our team gauges the damage extent, delivering a clear and precise estimate for water damage restoration costs. We also work directly with your insurance company to ease the claims process and minimize your administrative duties, allowing you to concentrate on the water damage repair process.
Choosing Ace Cleaning & Restoration means selecting a mold remediation company that prioritizes excellence, professionalism, and expertise in water damage restoration and mold remediation. With a proud heritage dating back to 1998, we're more than just a water damage company; we're a family-run business that has been a part of the Westhampton community for over two decades. Our community bonds and client relationships are at the core of our values. Opting for us means receiving personalized care and the compassionate service that is synonymous with the Ace Restoration family. Contact us today for a free estimate, and let us restore your property and peace of mind.
Westhampton Water Damage and Mold Restoration Services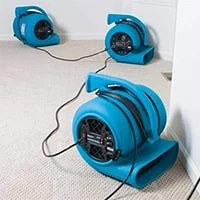 Water damage can stem from various sources, including storms, sump pump failure, malfunctioning appliances such as refrigerators, washing machines, water heaters, or dishwashers overflow, ruptured, leaky or frozen pipes, or even simple toilet, sink or bathtub overflow. Immediate and effective water removal and damage repair is critical. At Ace Cleaning & Restoration, we excel in all aspects of water damage restoration and mold remediation, offering comprehensive solutions for your property.
Our Approach to Water Damage Restoration
Our water damage restoration process starts by identifying and halting the water source, followed by thorough water removal and cleanup. Employing state-of-the-art equipment, including professional dehumidifiers, air movers, wall cavity dryers, wood floor drying machines, and thermal imaging cameras, we ensure an exhaustive restoration process. We don't just focus on water removal but also diligently dry all impacted areas, including carpets, walls, and documents. This proactive approach helps avert potential mold growth and odor.
What to Expect When You Choose Us for Your Westhampton Water and Mold Cleanup
As your preferred water damage company serving Westhampton and Westhampton Beach NY, you can rely on our certified technicians, recognizable in their ACE uniforms and service vehicles. With over two decades of experience, we undertake water damage cleanup and mold remediation promptly and professionally. Regardless of the damage scale, from minor home floods to extensive commercial incidents, we possess the expertise and tools to handle it effectively.
Mold Remediation Services: Ensuring a Safe and Healthy Environment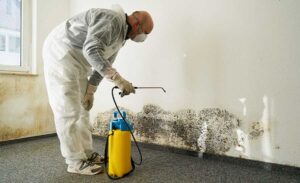 Mold is a widespread issue that often crops up following water damage. At Ace Cleaning & Restoration, we grasp the importance of promptly and effectively addressing mold problems to provide a safe and healthy environment for our clients. As certified professionals with support from the Institute of Inspection Cleaning and Restoration Certification, Inc. (IICRC), we're equipped with the necessary expertise and knowledge to tackle mold-related issues in residential and commercial properties.
Comprehensive Inspections: Finding Mold Growth in Every Corner
Our committed team of professionals initiates the mold remediation process by performing comprehensive inspections of the affected property. We leave no area unexplored, meticulously checking carpets, furniture, drywall, upholstery, and any other areas prone to mold growth. Using advanced techniques and equipment, we can detect even hidden mold colonies, ensuring a thorough assessment of the situation in your Westhampton home.
Mold Elimination: Rapid and Effective Cleaning and Repair
Once mold growth is identified, our team swiftly gets to work. We understand the urgency of the situation and prioritize a quick response to prevent additional damage and potential health hazards. With years of experience in mold remediation, we've perfected our skills to efficiently eradicate mold from every corner of your property. Our experts utilize industry-standard techniques and advanced equipment to remove mold colonies, ensuring comprehensive and effective remediation.
Reviving Your Basements and Crawlspaces
Basements and crawlspaces are multipurpose areas in homes, yet they're frequently susceptible to mold and water damage. Ace Cleaning & Restoration excels in handling flooded basements and crawlspaces, providing holistic solutions to revive these spaces to their prime conditions.
Ace Cleaning & Restoration is devoted to offering top-notch mold and water damage removal services for both basements and crawlspaces. With our seasoned team, industry-standard techniques, and premier equipment, we strive for customer satisfaction and professional excellence, aspiring to restore your spaces to their optimal conditions. Don't let mold and water damage undermine the functionality and safety of your basements and crawlspaces. Contact Ace Cleaning & Restoration today for crawlspace and basement water damage cleanup.
Addressing Frozen, Burst, or Broken Pipes
Broken pipes can cause water damage in an instant, flooding your home within minutes. Postponing repairs could result in structural damage, property loss, and potential mold growth. During colder months, inadequate insulation or unregulated heating can cause pipes to freeze and burst, leading to basement floods. Our team is ready to respond to such emergencies rapidly and efficiently. Utilizing our water damage services, we can rectify damage in your Westhampton home caused by frozen, burst, or broken pipes, ensuring your property is protected.
Sewage Damage Cleanup and Removal
We also undertake sewage cleanup and removal in Westhampton, in addition to water damage and mold remediation. Raw sewage is not only repulsive but hazardous, posing serious health risks and damaging property. Our professionals are equipped with the necessary tools and knowledge to ensure safe and thorough sewage removal. We adhere to stringent protocols to decontaminate and restore the affected areas, safeguarding the health and safety of your home or office.
Your Leading Water & Mold Remediation Company Nearby!
Ace Cleaning & Restoration is your go-to solution for all water damage and mold cleanup needs in Westhampton and Westhampton Beach NY. Whether you need immediate assistance or want to schedule an appointment, our 24-hour hotline is always available. Choose us for top-tier water damage and mold cleanup services, and let us restore your property to its pre-damage state.
Providing water damage Westhampton NY and Westhampton Beach NY services to 11977, 11778.
Learn More About Westhampton NY
Westhampton Beach Village was officially established as a municipality in 1928. Unfortunately, in 1938, a devastating hurricane struck, causing extensive destruction and resulting in the tragic loss of twenty-nine lives among the summer homes located on its barrier beach.
Similar to many other coastal areas, the beach in Westhampton Beach was experiencing erosion towards the shore. This issue became a matter of political concern during the 1960s. In 1966, the Army Corps of Engineers initiated a project aimed at safeguarding the beaches in the region from further erosion. However, due to insufficient funding from the state and local government, the project was only partially completed. Furthermore, the project design itself had significant flaws. Consequently, erosion worsened at the beaches in Westhampton Beach, while the beaches upstream actually expanded.
Throughout the late 1970s and into the 1980s, severe storms, particularly nor'easters, continuously washed away beachfront homes. It was only after a destructive nor'easter in November 1992 destroyed more than eighty homes that the Army Corps of Engineers recommenced their restoration efforts.[8] In the mid-1990s, the Army Corps of Engineers relocated fifteen historically significant houses, moving them away from the beach and out of harm's way, albeit temporarily. However, the beach continues to erode, and with each storm, additional damage is incurred. Further restoration work was required following Hurricane Sandy in 2012.

Get a FREE Estimate Below: