24/7 live calls – ALWAYS talk to a person, not a machine
On our way in 60 minutes or less
Family-owned and operated company serving the area since 1998
Free estimates and mold inspections
We bill your insurance company directly
Our Clients Say it Best
Awesome! Ace did exactly what they said they would do and then some. Couldn't of asked for a better experience despite this difficult time. No one wants a flood in there home but thanks to Ace its like I never had one. Perfection from start to finish! – Dan B.
Check out all our 5-star reviews on Google
Your Trusted Mold and Water Damage Restoration Specialists in Sagaponack, NY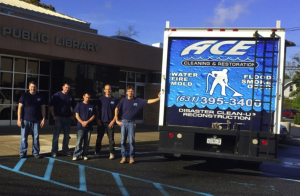 Welcome to Ace Cleaning & Restoration, the one-stop destination for all your needs from water damage restoration to comprehensive mold cleaning in Sagaponack, NY. Understanding the dire consequences of water damage, flooded basement, or sewage damage cleanup, we provide fast, thorough, and dependable water damage services. Our black mold removal and mold treatment procedures are handled by certified mold specialists. We make mold inspection and mold removal our priority to ensure the safety and health of your property.
Always at your service, we stand by our commitment to be available 24/7, because emergencies like frozen pipe water damage or flood damage often occur without notice. When you call us, a well-trained team member, rather than an automated system, will personally attend to your situation. Building human connections is paramount to us, especially during these stressful times.
Our skilled staff equipped with state-of-the-art technology can be at your location within an hour. They are prepared to manage water in basement issues or any other water damage in Sagaponack swiftly and effectively. Our water damage cleanup process is meticulous, covering everything from stopping the water source to total water removal and flood cleanup, making sure your property is restored to its original state.
Problems with Water or Mold Damage? Ace Cleaning & Restoration Is Here to Help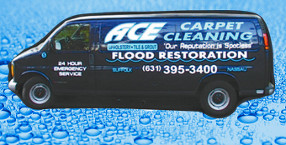 Dealing with water damage repair and mold remediation can be financially taxing. That's why we offer free estimates and mold inspections, conducted by our professional mold remediation company. Our team in Sagaponack will assess the extent of damage, whether it's basement water damage or crawlspace water damage, providing a clear and accurate cost for restoration. Working closely with your insurance company, we aim to ease the claims process and minimize your paperwork, allowing you to concentrate on the water damage restoration process.
Selecting Ace Cleaning & Restoration means choosing a company with a record of excellence, professionalism, and expertise in water damage restoration, mold remediation, and mold cleanup. With a respected history dating back to 1998, we are not just a mold removal company but a family-owned business that has been part of the Sagaponack community for over two decades. Our community engagement and client relationships are at the core of our values. Opting for our water damage restoration company ensures you receive personalized care and the compassionate service associated with the Ace Restoration family. Contact us today for a free estimate, and allow us to restore your property and peace of mind.
Water Damage and Mold Restoration Services in Sagaponack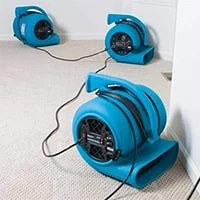 Water damage can spring from various sources, including storms, sump pump failure, defective appliances such as refrigerators, washing machines, water heaters, or dishwasher overflow, broken, leaky or frozen pipes, or even a simple toilet, sink or bathtub overflow. Swift and effective water removal and damage repair is crucial. At Ace Cleaning & Restoration, we are experts in all facets of water damage restoration and mold remediation, providing comprehensive solutions for your property.
Our Methodology for Water Damage Restoration
Our water damage restoration methodology commences with identifying and halting the water source, followed by extensive water removal and cleanup. Employing advanced equipment, such as professional dehumidifiers, air movers, wall cavity dryers, wood floor drying machines, and thermal imaging cameras, we ensure a comprehensive restoration process. We don't just concentrate on water removal but also meticulously dry all affected areas, including carpets, walls, and documents. This proactive approach aids in preventing potential mold growth and odor.
What to Anticipate When You Opt for Us for Your Sagaponack Water and Mold Cleanup
As your preferred water damage company serving Sagaponack NY, you can trust our certified technicians, identifiable by their ACE uniforms and service vehicles. With over 20 years of experience, we manage water damage cleanup and mold remediation promptly and professionally. Regardless of the extent of the damage, from minor household floods to extensive commercial incidents, we possess the expertise and tools to handle it effectively.
Mold Remediation Services: Crafting a Safe and Healthy Environment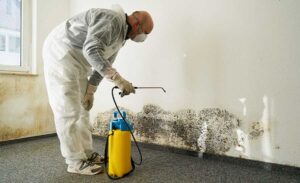 Mold is a prevalent issue that typically emerges following water damage. At Ace Cleaning & Restoration, we recognize the significance of addressing mold concerns swiftly and effectively to forge a safe and healthy environment for our clients. As certified professionals supported by the Institute of Inspection Cleaning and Restoration Certification, Inc. (IICRC), we are equipped with the necessary expertise and knowledge to handle mold-related problems in residential and commercial properties.
Detailed Inspections: Pinpointing Mold Growth in Every Corner
Our dedicated team of professionals initiates the mold remediation process by carrying out detailed inspections of the affected property. We scrutinize every potential spot, meticulously examining carpets, furniture, drywall, upholstery, and any other areas vulnerable to mold growth. By employing advanced techniques and equipment, we can detect even concealed mold colonies, ensuring a thorough assessment of the situation in your Sagaponack home.
Mold Elimination: Rapid and Efficient Cleaning and Repair
Once the mold growth is located, our team springs into action. We understand the urgency of the situation and prioritize a fast response to prevent additional damage and potential health risks. With years of experience in mold remediation, we have refined our skills to eliminate mold from every corner of your property effectively. Our experts use industry-approved techniques and state-of-the-art equipment to remove mold colonies, ensuring comprehensive and effective remediation.
Restoring Your Basements and Crawlspaces
Basements and crawlspaces are multifunctional areas in homes, but they're frequently susceptible to mold and water damage. Ace Cleaning & Restoration excels in handling flooded basements and crawlspaces, providing holistic solutions to revive these spaces to their prime conditions.
Ace Cleaning & Restoration is committed to offering exceptional mold and water damage removal services for both basements and crawlspaces. With our experienced team, industry-standard techniques, and top-tier equipment, we aim for customer satisfaction and professional excellence, aspiring to restore your spaces to their optimal conditions. Don't let mold and water damage compromise the utility and safety of your basements and crawlspaces. Contact Ace Cleaning & Restoration today for crawlspace and basement water damage cleanup.
Addressing Frozen, Burst, or Broken Pipes
Broken pipes can result in water damage instantly, flooding your home within minutes. Delaying repairs could lead to structural damage, property loss, and potential mold growth. During colder months, poor insulation or unregulated heating can cause pipes to freeze and burst, leading to basement floods. Our team is primed to respond to such emergencies swiftly and efficiently. Using our water damage services, we can mend damage in your Sagaponack home caused by frozen, burst, or broken pipes, ensuring your property is safeguarded.
Sewage Damage Cleanup and Removal
In addition to water damage and mold remediation, we also handle sewage cleanup and removal in Sagaponack. Raw sewage is not only repulsive but hazardous, posing serious health risks and damaging property. Our professionals are equipped with the necessary tools and knowledge to ensure safe and thorough sewage removal. We adhere to stringent protocols to decontaminate and restore the affected areas, safeguarding the health and safety of your home or office.
Your Premier Water & Mold Remediation Company Nearby!
Ace Cleaning & Restoration is your one-stop solution for all water damage and mold cleanup needs in Sagaponack NY. Whether you need immediate assistance or want to schedule an appointment, our 24-hour hotline is always open. Choose us for top-quality water damage and mold cleanup services, and let us restore your property to its pre-damage state.
Providing water damage Sagaponack NY services to 11962.
Learn More About Sagaponack NY
The area surrounding Sagaponack was initially settled around 1653. On September 2, 2005, the village was officially incorporated. Before its incorporation, Sagaponack was designated as a census-designated place with a population of 582 according to the 2000 census. The area covered by the census was 70% larger than the current village.
The name "Sagaponack" originates from the Shinnecock Nation, and it refers to the "land of the big ground nuts," specifically the Ground Nut (Apios americana). It is commonly misunderstood that the name refers to potatoes, which were the primary crop grown by the area's first settlers. Many of the village's large estates were constructed on former potato fields. The first settler in the area was Josiah Stanborough in 1656, and the village was initially known as Sagg.
Beginning in the 1950s and 1960s, Sagaponack became a sought-after residence for writers and individuals involved in the literary business. It was appreciated for its serene and affordable community living.

Get a FREE Estimate Below: